In the midst of everyday life, it's so easy to lose yourself, isn't it? Especially after becoming parents. Let's face it, once the you pop the first watermelon-sized bundle of joy (who later fries your nerves) from your who-who, your life is no longer yours. Subsequent melons just prolong any parent from once again standing in the spot light of their own life. Mothers and fathers are just supporting actors in their kids' lives. Ask them... as teenagers they are more than happy to point out your short-comings or the fact that "you have no life". Unfortunately, sometimes, I have to agree with them.
So today, I fixed that. For the first time in eons, I did something for myself and I FEEL GREAT! I'm not talking a mani-pedi or a quick bite to eat with my girlfriends. I'm not even talking a weekend get-away with my bffs. While those are all fantastic and appreciated, let's be real... as soon as we get home and someone starts whining, or another starts nagging, the warm fuzzies all flitter away and we find ourselves back in the same exact spot as we left. Today, I did something with a little more substance.
Today, I began my education course in marine mammal husbandry. I have signed on for a year's worth of docent and teaching work. Despite a three hour round trip commute, I am thrilled to be back in the classroom, learning something new and having the opportunity to work with these animals, and share my enthusiasm for these creatures with others.
I drove home today on a natural high....I'm still feeling it as I type this. I feel re-invigorated, energized, and proud to be part of a community of volunteers who not only work to rehabilitate wounded and sick animals, but more importantly, gather scientific data to help further our knowledge and understanding of these fantastic, intelligent animals and their effect on our ecosystem and environment.
I feel alive! I feel I have something in my life that's all about me! I think it's been over twenty years since I've had such a selfish feeling. I'm learning...filling my brain with all sorts of new information and I just thrive on learning. I'm telling you, I could've been a college student for the rest of my life. But, I think the best part is knowing that I'm doing this all for me.
Oh! And for these cuties, too. Who wouldn't love to work with faces like these...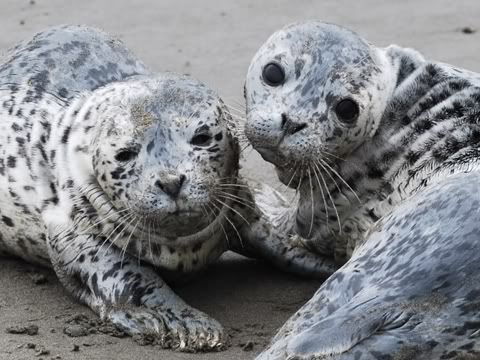 *************************************************************
Be my hero and hit the Facebook "Like" button, would 'ya? Thanks!