However, every now and then, even while doing the most mundane and repetitive of chores or errands, life throws you a wrench. That just happened to me, and I feel as if I've just walked into a different dimension... a parallel universe, if you will. I'm still trying to wrap my head around it.
For ten years, Doc H and I have been utilizing the same dry cleaner. Kim, and her husband, Sam, are a married Korean couple. They know us, they know our clothes. They are sweet, hard-working people, who speak very little, very broken English. But she loves to talk to me and I always do my best to understand her. I always repeat back what she says to let her know I've understood her. I think she likes that, because she always smiles and nods her head as I repeat back what she's said.
I walked in her store front to be greeted with a broken "Allo, Meh Smi(th). Ow ah you?" Our conversation is exactly them same every time I see her.
"Ow Daw-ta Smi(th)?"
"He's good, Kim."
"Ohhhhh... e bee-zee daw-ta."
"Yes, yes, he is busy."
"Mmmm... pee-po seek. A-way pee-po seek. Noh goo fo dem."
"You're right, it's not good to be sick."
"Ohhhhhh... Daw-ta Smi, e bar-ree bee-zee ma."
"Yes, he's very busy."
"Ohhhhhh... e ty-yah ma"
"Yes, he's tired quite a bit. You're right."
As per our usual, it is at this point I pay and she carries the laundry out to my car and hangs it up. Really, I don't know why she does this except to say that she is very nice. I always tell her I'll get it, but she refuses to let me carry it.
I unlocked the car, opened the door and the clothes were hung. And, here, is where life skidded a bit, went off the tracks, and I found myself in alternate universe.
"Ohhhhh... Meh Smi! You lew skee-nee! You lewz... you lewz.. ma-nee... ma-nee...
"No, I just lost a few pounds, Kim."
"Ohhh.... noooooooo."
And that's when it happened. She walked over, busted through my personal space barrier, and laid one hand on my stomach and the other on the small of my back. She ran her hands up and down my torso as if she was fluffing up a pillow. She "fluffed" me from my navel to the underside of my cups.
I felt my boobs shift around a bit in their respective hammocks. Beside Doc H, my Ob/Gyn, and the lady who administered my mammogram, Kim is the only person to touch the ladies in EONS. I was frozen, no movements could be made, no words could be formed. Finally, Kim said...
"Ohhhhh... you goo.. you bar-ree goo!!! O-kay, see you ness ta!" She smiled and waved at me as I walked around to open my car door.
Dazed and stunned, I just answered back, "Yes, see you next time."
I plopped in my seat, dazed and bewildered. WHAT THE HELL JUST HAPPENED?! DID SHE REALLY JUST FEEL ME UP?
Yes. I believe she did. I believe she felt me up.
And you know what? She did a pretty good job at it.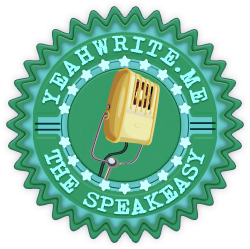 Link up here this weekend...